Into His World: Donald Abraham
Growing up being dyslexic and hence stuffed with comic books to instil his interest in reading, Donald Abraham has since young been consented by the family to be a factotum so as to support himself. From a fitter in a shipyard to a prop artist in an advertising company, then a debt collector and a dumpster diver, hardships in life have never taken a toll on his sunny disposition. Walking on the darkest alley only opens his eyes to observe people from all walks of life from a pope to a pauper. When he was working as a gallery sitter, he decided that an artist is the last thing he wanted to be. Skateboarding, hip hop music, breakdancing, spray painting, and living underground with his fellows in the tiny dark studio establish the subcultural milieu central to his works.
He cultivated his passion in street painting, until the illegality of doing so and the yearning for the longevity of his creation drive him to move on to canvas painting and assemblage objects making. His unfettered colour palette is bright and vibrant, which idiosyncratically transmutes any dumping ground into a play ground. The visual richness could be attributed to his ethnographic traits and his sensitivity towards the social acceptance of indigenous tribes, as he is a descendant of Kadazan Tatana, an indigenous sub-ethnic populating in East Malaysia.
Being trained by many except for a formal art school, his particular style arise without the constraints of formal teachings. He combines graffiti and doodling with the hallmarks of street art. "Yak yak", the sound of birds symbolising freedom, could be spotted as the signature tag in most of his works. Donald's works are often filled with grotesque characters romping around the canvas,  constructing a whimsical circus alluding to the society. One could find a wide array of action-packed characters, some angelic, some sly, some contented, some wicked, all cohabiting in the cauldron, with politics and relationships enigmatic to the audience. The visual metaphor of animal-like creatures, monsters and robots, examine the collective perception on the deviants and queers in the society. The mordant sense of humour, paired with slight darkness associated with the struggle for power and wealth in modern day living, endow his works with a degree of social satire. The goofy, ludicrous figures seemingly sneer at us, the audience, who are incapable of escaping from the grossly ridiculous reality.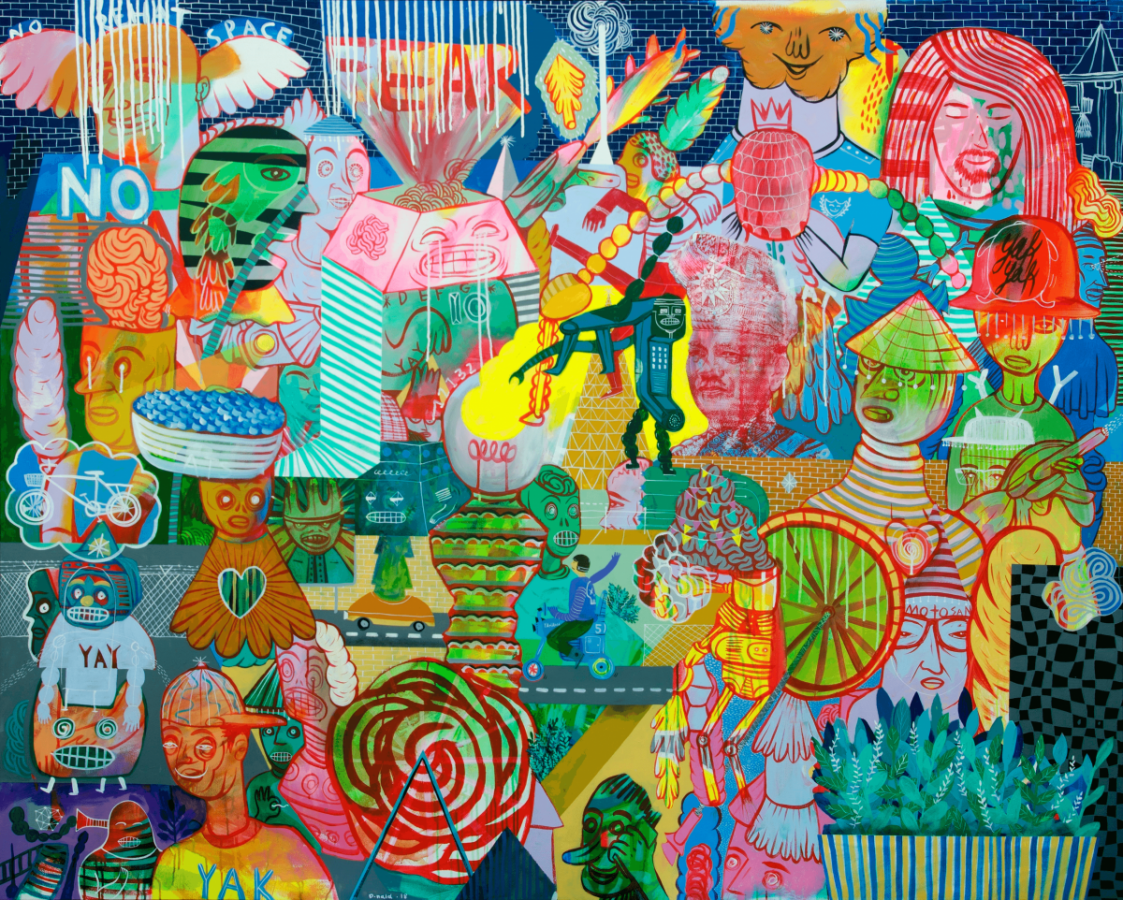 Donald Abraham was born in 1981 and grew up in the era when hip hop music and breakdancing were the rage. Being raised in a coastal village in Sabah, Malaysia, he longed for every aspect city life could offer — rap music, baggy jeans, skateboarding and spray painting. Street art became the soul with which he lived when he decided to pursue art in the capital city. He has not attended any formal art school, nevertheless his diligence and humility have earned him informal pupilage under a few veteran artists in the country. Since 2007, he has actively participated in group exhibitions in Kuala Lumpur, Penang, Langkawi, Singapore, Shanghai and Paris. In 2018, he had the first solo exhibition titled "Yang Lain-Lain" (The Others) at Suma Orientalis, Kuala Lumpur, Malaysia, which was featured in both major English daily newspapers in Malaysia (The Star and New Straits Times). He has accomplished public art commissions for Malaysia National Art Gallery and Publika Mall, Kuala Lumpur in year 2017 and 2010 respectively. In 2008, he has attained the Honourable Award in "Out of Line" Art Competition, Kuala Lumpur and later in 2010, his artwork was featured on the cover of Klue Magazine. In 2013, he participated in the artist-in-residency programme at Beranda Gallery, Langkawi, Malaysia.
Sophia Shung
Director, Suma Orientalis