A Conversation With Fauzan Omar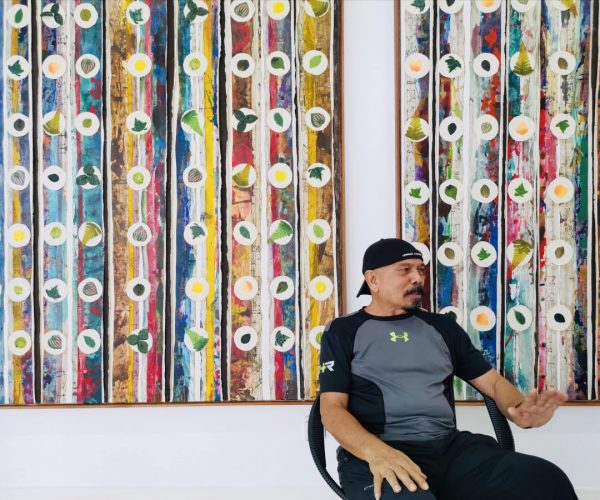 Fauzan Omar is a contemporary artist who was born in 1951, Kelantan, Malaysia. Fauzan Omar attended Maryland College Institute of Art, United States where he attained a Master of Fine Arts and began to pursue his artistic interests. His works have been exhibited in galleries and museums throughout Malaysia, Thailand, Singapore and Australia. During his recent exhibition at Suma Orientalis, Kris Lee (K) had a conversation with Fauzan (F) about his journey and his works.
K: What makes you want to do art as compared to other creative fields you can go to eg. fashion, graphics, interior or architecture?
F: The creative industry is about the dazzling work of invention and celebration. The borderless tune of art allows me to work independently away from the typical and restricted modus operandi.
K: If you are not an artist today, what would you be?
F: Never thought of this but certainly I will be a law-abiding citizen.
K: How do you feel after when you let your emotions loose in your work?
F: Certain works of art stress the expression of feeling, pertaining to anxiety, excitement, anger, love etc. We all experience very personal thoughts and feelings. The emotional content differs from one person to another.
K: What in art is more important to you?
F: The central issue of artistic transformation and the law of visual imagination (The Manual to Better Understanding of Art).
K: Do you think artists have a role to play in society?
F: Not only artists. Institutions, academicians, everyone has a role to play in society.
K: Who are your biggest influence in your career (Artist or otherwise)?
F: Locally, it is Redza Piyadasa. Internationally, Jim Dine. And many more…
K: What's your favourite piece of art you ever come across and why?
F: Many. I can't name you all but those are works by Mark Rothko, Henri Rousseau, Max Ernst. These are a few of my favourite artists.
K: What's your most memorable experience as an artist?
F: Being awarded the Australian Cultural Award and selected for the Brisbane Biennial back in the year 1995.
K: Do you follow art world trends?
F: No.
K: How do you want people in the art world to remember you by 20 years from today?
F: A person who exercises a significant influence towards the younger artists, my work remains in the centre of debate, and getting international recognition.
K: What is this exhibition about?
F: The heat is gathering fast, the world is getting hotter, drier and more flammable. We are directly affected by the heat and smoke.
K: Can you explain the meaning of the exhibition?
F: Extremely excessively harsh or Eeech! (as an acronym) is about the inferno, the scale, the severity and the intensity of the deadly blaze, this is about my observer reality.
K: Is this series linked to your past exhibitions?
F: My previous exhibition 'Hazardous Beauty' is about the disastrous effect and the beauty in the ugliness of haze. Capturing the surface fragments and the patterns in the invisible fields of energy assessed by the heat to construct a new artistic landscape. Now it is about the severity and intensity of the deadly blaze.
K: Can you explain your artist statement?
F: The climate catastrophe is an ongoing episode of human caused phenomena. Our planet is in jeopardy. Devastating wildfire, smokey haze, draught stricken in landscape, the unbearable heat, and the hazardous air quality. Disaster finally speaks.
K: What makes your observation relevant?
F: Living under threat from climate change, the unpredictable weather condition drought, prescribed and non-prescribed burning, fire etc.

K: What are you exploring in this exhibition?
F: I am scanning the intensity, the magnitude of flames, clouds of smoke and the aftermath.
K: Do you think someone from a different culture can relate to these works?
F: Of course, we are facing the same problem.
K: What do you want people to take away from this exhibition?
F: Awareness, and environmental responsibility. We must learn to love the world we are living in.
Kris Lee
Creative Director, Suma Orientalis