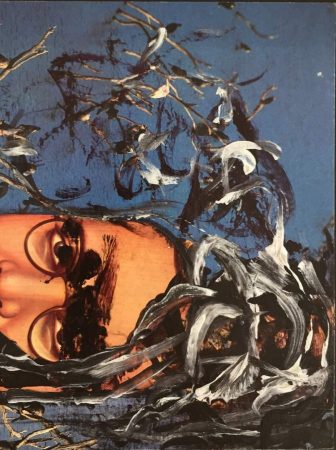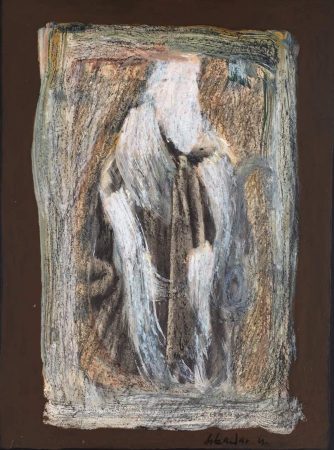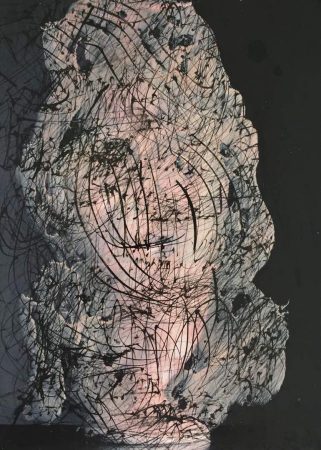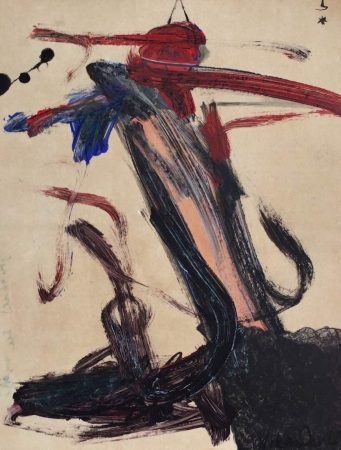 There is something theatrical and poetic about Askandar's artworks which beckons one good look after another, right after one ponders over the titles he gave each artwork – something he excels in, and something uncannily satirical about the wordplay that carbonates one's thoughts into clever wit. Without fail, it always puts a smile onto one's face.
And that is the sole reason why Dr. Askandar Unglehrt, a whimsically charming lad born in 1943 Germany, is romantically fluid when he engrosses himself in deeper conversation with his art, and poetry. Poetry however, is deeply rooted inside him, having gained his doctorate from Sorbonne University, Paris, France in 1972 on "The Poetry of Jean Arp". Jean Arp or "Hans Arp" is an important German-French sculptor, painter and poet, who notably initiated the Dadaist Movement alongside Max Ernst. Being immersed into Jean Arp's poetry is how Askandar began to see art in another perspective, hence his delectable mastery in art appreciation which culminates into a grand obsession with collecting, besides being appointed Chief Judge for the Philip Morris Art competition 1998, National Art Gallery, Kuala Lumpur, as the examiner for Equator College School of Art, Penang, and curator for some art exhibitions of international standing organised by Universiti Sains Malaysia, Penang.

Somewhere along the way, Askandar became a pioneer master collager. And an off-collar humorist. Delving into his creations in another light, he is one rascal experimenter. In one of his early works, he cleverly left Spiderman stranded in an environment where his services were clearly not needed – tropical paddy fields. He did that to Mona Lisa as well too – giving her a localised scenery to content with and romantically linking her with Leonardo, the artist who painted her. The works he creates are naturally as bubbly as he himself is, as he gives new meaning to old record covers, newspaper cut-outs, and magazine prints – then culminates them all up into catchy storylines which befit his pop imagery. And many a time, he paints over them, transforming them into some strangely surrealistic and suggestively sensual abstract artworks.

In this series of works titled "Walau Bagaimanapun" (Even Though…), an effort he made between the years 1993-1997, Askandar applied noodle-like "Pollock" brushstrokes directly onto prints he found waddling through old books and magazines, instead of his habitual paste-toral ways.

Askandar held his first solo in Germany in 1984. His last one, in 2001 Penang where he currently resides. In between, he participated in other group exhibitions and had solo stints in Switzerland, Germany, Singapore and Malaysia – Petronas Gallery, Valentine Willie Fine Arts, Balai Seni Negara, to name but a few. Askandar's works are currently collected by noted institutions including National Art Gallery, Penang State Art Gallery, Petronas Gallery and Singapore Art Museum.

As a matter of fact, Askandar was drawn to Malaysia right after he was smitten into the palatial courts of an adorable Kelantan princess, Tengku Idaura, whom he met in Paris in the 1960s, whilst they were both excelling in the French lingua. And thus, as attraction blooms into mutual courtship, he left his hometown to reside in Malaysia and became a devoted family man, lecturing French at Universiti Sains Malaysia, Penang until his retirement. Thence, with all the time he has in his hands, he began to re-immerse himself again, into making art. And spending the rest with his adorable grandchildren he is so fond of.